We are very excited to announce that on Thursday the 28th of July we are holding a movie screening of  'Suffragette' here at St Hilda's.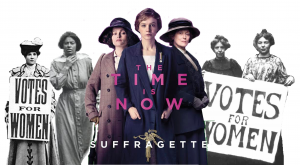 We were very proud to have been involved with some of the shooting taking place in and around our local neighbourhood, the Boundary Estate and St Hilda's itself for several weeks during 2014. This give our users and staff an insight into the work that goes into film production, and we got to experience what it would have been like at St Hilda's in the early days of the twentieth century, as we were surrounded by set dressing and actors in period costumes!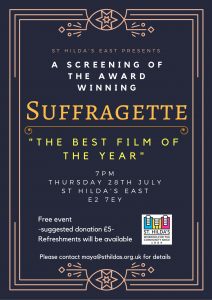 We were particularly pleased to be one of the filming spots as St Hilda's has a strong connection to the women's suffrage movement through our founders, Cheltenham Ladies' College. Dorothea Beale, CLC's most famous headmistress and inspiration for St Hilda's, petitioned Parliament to give women the vote in 1867 along with members of the Kensington Society. Although this was defeated by 196 votes to 73, the Kensington Society was undeterred and went on to form the London Society for Women's Suffrage. Dorothea Beale continued to be a strong figure in the suffrage movement, eventually becoming vice-president of the   Central Society for Women's Suffrage.
Please come along to the event to support our community centre – we are not charging for tickets but there is a small suggested donation of £5 –
See you there